I love to cook! Most of my friends and colleagues refer to me as a, "FOODIE."
So, I'm going to share about the time I accidentally created RASPBERRY-FLAVORED BUTTERNUT SQUASH SOUP. It's a pretty embarrassing (and avoidable) moment as a FOODIE. I recently made a batch of butternut squash soup (one of my favorite dishes)! Unfortunately, I was in a rush when I was about to eat it. I ladled out a bowlful and set it on the counter. I was also getting my electrolyte water ready for the day. Do you see where this is going?!?!? I poured water into my water bottle and took out a packet of raspberry-flavored electrolytes. Do you see where this is going?!?! GUESS where the contents of the electrolyte package went!?!?
Well, if you guessed in my soup bowl, you guessed correctly! I was in such a rush that . . . instead of pouring the electrolyte packet into my water bottle, I was now the proud owner of . . . a bowl of raspberry-flavored electrolyte soup. While I'm not proud of this moment, I've decided to write about it because it's a learning opportunity.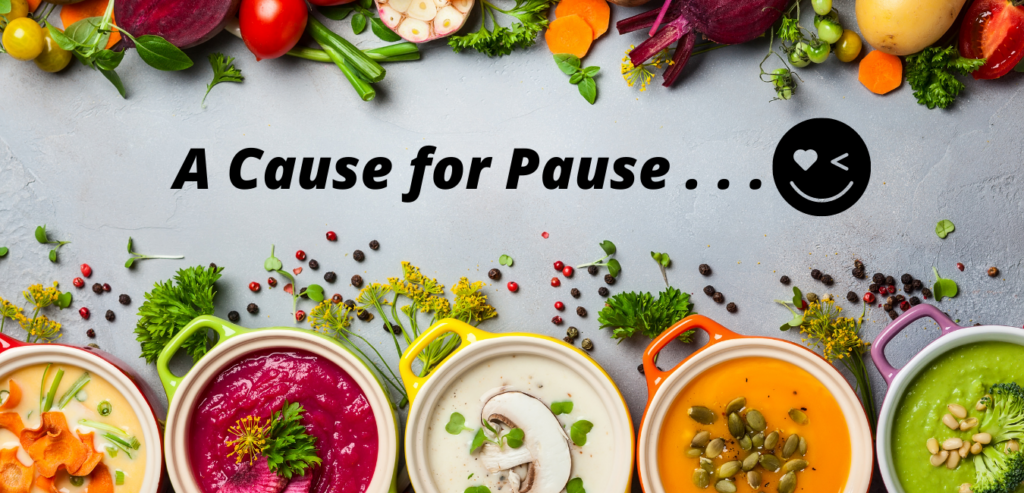 It's a chance to understand the value of slowing down and being present with what is in front of me. Had I paused for a second or two, I would've had the opportunity to notice that this was about to happen. I was so upset by this that I actually tried to eat the raspberry-flavored butternut squash soup. YUCK. Sorry, it wasn't working out. Fortunately, it was only a single bowl of soup and a single packet of electrolytes. I would like to think this will never happen again, but I'm human! Unless I pause and take my time, it can happen again (or something like it). In retrospect, it's a pretty funny lesson and a serious one too.
Have you experienced something preventable like this? Where in your daily life can you PAUSE for a second or two and be present with what you're doing to prevent it from happening again?
---
Shay Vasudeva, MA (Psychology), MS (Kinesiology), NFPT-CPT, NASM-CPT-CES, THSA-CNT, and Tai Chi & Black Belt Karate Instructor, is also a Member of The Author's Guild and Ambassador to the Phoenix, AZ Chapter. She is the owner and founder of ShayTheCoach and ShayTheCoachWriting, companies that help people become the best version of SELF by simplifying heady topics through the written and spoken word. She is an author, educator and international speaker in the wellness industry.
Call 480-294-9952 or e-mail [email protected] to find out more or to book Shay for a writing project or to speak with your organization.
This blog is intended for those who are interested in Nutrition, Fitness, Karate, Tai Chi, or simply becoming best version of SELF on a business/professional level. Thank you! We are not doctors/medical professionals and don't diagnose or treat diseases. The contents of the blog are for educational purposes.
Copyright © *2020* *ShayTheCoach.com*, All rights reserved.