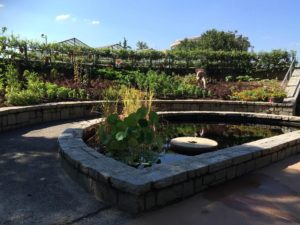 Greetings! Shaythecoach here!
Here, here. Here Here!
Here's a summary of my recent trip to Atlanta, Georgia for the International Conference on Childhood Obesity held at the beautiful Hilton Airport Hotel:
It was a 2 day conference with professionals from different parts of the globe coming to present their research and support the work of trying to decrease the obesity situation.  The key note speaker was Dr. Gerry Leisman, Director of the National Institute for Brain and Rehabilitation Services in Israel. He highlighted the Pleasure-Reward Circuit found in the human brain. It has to do with neurotransmitters Dopamine and Serotonin. His work reminded me much of the work from the movie, "The Hijacked Brain" which we showed to the outpatient group when I was working as a Substance Abuse Counselor. Basically, Dr. Leisman highlighted how the pleasure part of the human brain "lights up" or becomes active when sugar or processed food is consumed.  The circuit releases neurotransmitters (Dopamine and Serotonin) which then goes on a neural pathway to a part of the brain that stores this memory. So then, the brain gets trained to remember ingesting processed foods creates pleasure (release of Dopamine and Serotonin). From there, the neural pathway leads to the frontal lobe which is primarily in charge of  sense of reason! The frontal lobes are known to be continuously developing until the age of 21. So, if a child continues to be exposed to processed foods and the pleasure-reward circuit continues to get activated and essentially, 'hard wired.' So, it becomes more and more difficult for the child to make healthier choices. This was covered by Dr. Gerry Leisman. In the movie, "The Hijacked Brain," Scientists found the same result by taking an MRI of an individual on Cocaine.  The same pleasure-reward circuit was activated. In the movie, scientists went one step further though. They took an MRI of the same individual while the individual did not have cocaine in their system. What they did instead was show the individual the cocaine. Simply showing the individual cocaine activated the pleasure-reward circuit. Hence, this individual's brain had been, 'hijacked.' So, this individual needed some additional treatment after removing the cocaine from the physical body. Much in the same way processed foods can be removed from a diet, but there are other areas that need to be addressed too for long-term results.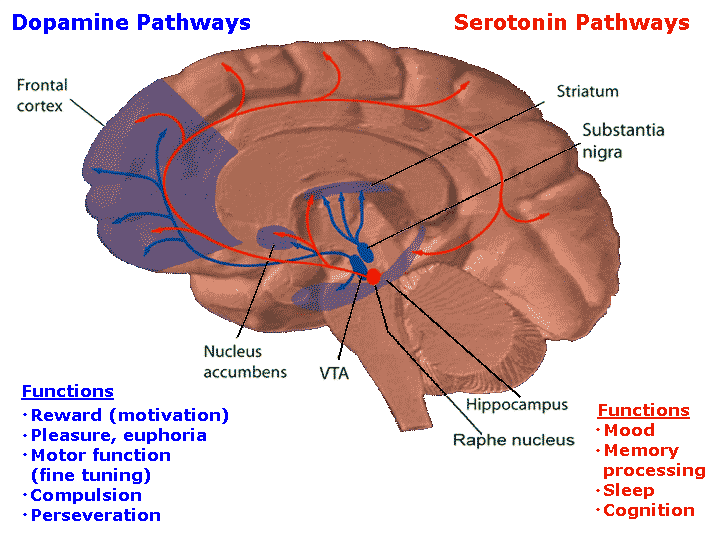 It is very interesting work to study and review! It shows that processed foods could maybe, possibly have a similar effect on the brain as cocaine! Sounds a little extreme, huh?  I suggest watching the Hijacked Brain and also going to the Obesity Series website to find the presentations supporting this.  The conference committee is in the process of posting the research from the conference, which was just last week (August 29 & 30).
There were also presentations by Dr. Analia Loria of University of Kentucky, Dr. Susan Ferris-Brown of Ohio University, and Dr. Linhua Zhao of Guang Anmen Hospital of China Academy of Chinese Medical Science.  Dr. Loria presented research on early life stress-programmed risk for obesity-induced hypertension. Dr. Ferris-Brown discussed ways in which provider knowledge could be improved in order to decrease pediatric obesity. Dr. Zhao presented the efficacy of a Chinese Herbal formula in the treatment of Type 2 Diabetes.  All of their research and presentations were significant and will also be posted on the Childhood Conference Series website.  Currently, if you click on the link, you will see it is being prepared for the 2017 conference which will be held in Rome, Italy! If you have interest in attending, you may pre-register. If you have interest in presenting, you may submit an abstract! Another place to find the research until it is prepared and posted is in the Journal of Obesity & Weight Loss Therapy (Open Access) August 2-16, Volume 6, Issue 6.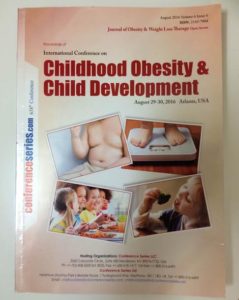 I was honored to be in the presence of such educated and trained individuals!  Other highlights included the Young Researchers forum where 3rd & 4th year Medical Students and Doctoral Residents presented their research. This is exciting too! Their research was significant and highlighted in lecture format and poster presentations. Why is this exciting? Because the research to educate and help with the obesity situation doesn't stop with established practitioners. It shows there is a wave of upcoming professionals who care about and are working to impact childhood obesity.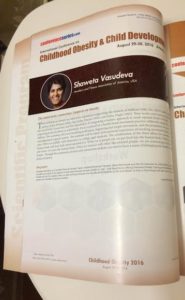 Which leads me to why I was there! I was asked by the conference committee to present and speak to the theme of 2016 which was, "Unfolding the Intricacies of Being Fit." What a privilege!  So, I presented a movement based workshop titled, "The Mind-Body Connection: Its Impacts on Obesity." It was a two part workshop, each part 30 minutes long with a 15 minute break in between. The first part covered the research on the Mind-Body connection and I presented it in a lecture format. Most of what I covered I have written about in blog posts on www.Shaythecoach.com (see Mind-Body Connection post from 3/7/2016).   The second portion was the movement piece. If you have attended a Karate class or Tai Chi class taught by me, the movement portion of the workshop was very similar. I had the opportunity to show the attendees, Doctors, Residents and Doctors in training/school these simple movement based exercises that help to encourage positive habits in students. The movements include circular and dynamic stretching, mindfulness and belly breathing (which activates Chi/Qi and circulates oxygen to the vital organs and extremities of the body), and of course basic punches and kicks. Which brings me to the next point-Karate and Tai Chi is more than punches, kicks and movements!  We discussed how these body movements are connected to the the mind. For example if the mind is saying "I am unable to do this." "I am not coordinated." The body struggles to implement these movements. So, I work with students and colleagues (and myself included when I practice!!!) to reframe this mindset. The last piece to the Mind-Body connection I covered is Spirit. Now, this was a very academic and scholarly setting, so I did not delve into areas of spirituality but rather Spirit. In karate culture, it is otherwise known as, "Kime." The translation being, "mind-no-mind." It is what happens to Karate/Tai Chi practitioners over time when they can synchronize the physical movement to their mind-set with the deep abdominal breathing. The spirit of the practitioner comes alive and can manifest in the following ways: self-confidence, improved self-esteem, improved coordination, improved self-talk, improved lifestyle decisions, improved circulation, improved respiratory functioning, improved choices in food, improved and alternate way to activate the pleasure-reward circuit! The  list goes on ad infinitum. I closed the workshop with discussing how to utilize Psychology in teaching Karate/Tai Chi as well. It is through a concept called Unconditional Positive Regard. It's a long winded way of stating that creating a non-judgemental environment  allows students to have a sense of belonging and inclusion. I also give students tasks as appropriate and needed in order to foster a sense of community and purpose. Additionally, the repetition of the movements gives students a sense of structure and feeling of safety. Yes, structure and safety in Karate/Tai Chi! We can still practice punching, kicking, and even take downs in an atmosphere of safety. Don't get me wrong, karate is a contact sport but it can be taught in a supportive atmosphere. This often time translates into improved classroom behavior, improved behavior in home and improved relationships with peers.
Now, can you see why the passion towards martial arts?… towards psychology?… towards movement?…AND about having platforms to share and teach how it is connected?
The workshop was well received and yet another highlight was when I met Mr. Donald Holdbrook, COO and Mr. Calvin Love (President and Founder) of Little Giants Incorporated of Cleveland, Ohio. They were attendees and are equally as passionate about this work.  I am delighted to meet more like minded people who are on the path of teaching students to make positive, healthy lifestyle choices thereby impacting obesity! If you are interested in having this workshop delivered at your facility you may contact me at: 480-253-9642 or [email protected]
As you see, it took a 'village' to put this conference on!!! Actually it took an international community!! This leads me to the final point, the THANK YOU AND KUDOS to people and organizations who helped me reach and present this workshop in Atlanta. If i leave anyone out, please feel free to private message me or call 480-253-9642 and I will happily add you and apologize..it was not intentional! I make every effort to have an accurate and thorough KUDOS list!!:
My clients and students!
My readers, followers, and social media people!!! Thank you for your encouragement, feedback and reviews.
My friends, family, colleagues, Sensei & karate family.
My social media team who help to deliver the content!
The International Conference Series Selection Committee
To The Health Sciences Academy and Mr. Maurice Castelijn, Managing Director. I am a Certified Nutritional Therapist through THSA and am happy to say Mr. Castelijn, the THSA staff and myself had a few discussions leading to this conference and they supported my presence there! It earned me the position of Brand Ambassador which I gladly accepted. This means, if you are interested in becoming certified in Nutritional Sciences, I can talk and walk you through the process. The credentials and education I received through THSA most certainly played an impact on my career and opportunity growth! I also am currently enrolled in their Sports Nutrition Advisor Program.
Aerobics and Fitness Association of America (AFAA), National Academy of Sports Medicine (NASM) and Mr. Jeremy Guenther, Director of Business Development. I am a Certified Personal Trainer through AFAA and the foundations I learned about movement, anatomy and physiology, exercise prescription, and body assessments has helped me grow in my career. I am now enrolled in NASM CPT, CES (Corrective Exercise Specialist) program to advance my foundation. I will also be attending NASM Optima Conference to be held in Scottsdale, AZ in October, 2016 with some colleagues!
Maricopa College Community District: Dr. Wanda Tucker (Rio Salado College), Faculty Chair of Psychology, Religious Studies, and Philosophy; Dr. Kim McGee (Chandler-Gilbert Community College), Faculty Chair of Exercise Science Department; All of the MCCD Staff who assisted me with letters of recommendation, paperwork processing, covering my classes, supportive words, and eager e-mails and phone calls asking how it went!
SWMCA, "The K-6 After School Karate Enrichment Programs," for whom I am a Karate Instructor.
Again, anyone whom I inadvertently missed…I apologize. I always make lists when people help so I can give credit where credit is due..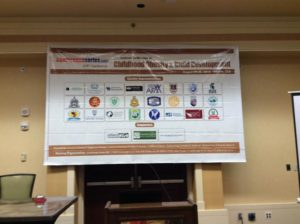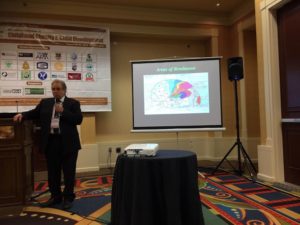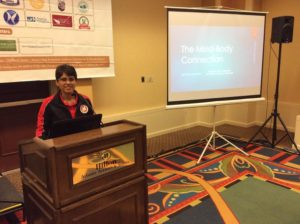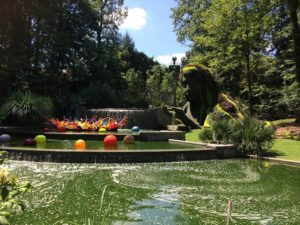 —-
Shay Vasudeva is the owner and founder of Shaythecoach, a company that helps people become the best version of SELF. She is a Certified Personal Fitness Trainer, Certified Nutritional Therapist, and Black Belt Karate & Tai Chi Instructor. Call 480-253-9642 or e-mail [email protected] to schedule your free goal setting session now ! For more information about UrbanMonk you can go to: www.urbanmonk.biz.
This blog is intended for those who are interested in Nutrition, Fitness, Karate, Tai Chi, or simply becoming best version of SELF on a business professional level. Thank you!  We are not doctors/medical professionals and don't diagnose or treat diseases. The contents of the blog are for educational purposes.
 Copyright © *2016* *URBANMONK.BIZ*, All rights reserved.