So, I did a thing! I became a Doctor of Acupuncture. It was hard won and hard earned. I met a lot of great people along the way and couldn't have done it without support!
It took rugged persistence, time, and more than a village. It took what it took. It finally happened!
Yes, that's me, wearing a wig. And now I will share the story behind the wig.
#adulting
It started because I wore it in clinic. I spent many hours as a clinical intern in order to graduate with a Doctorate of Acupuncture over a number of years. As a clinical intern, I got to treat patients with a variety of conditions. So, I started to wear the wig to bring some cheer to my patients.
It worked! As a positive side effect, so to speak, it also cheered up fellow interns and helped me de-stress. It lightened the mood around the clinic and was a welcome addition to the shifts I was on.
When it was time to walk for graduation, and I was planning my outfit, I decided it would only be appropriate to wear the wig to celebrate this huge milestone. So, I did!
The wig brought the same amount of joy to graduation as it did in clinic. Sometimes, treating patients or studying or doing the life responsibility stuff or the #adultingstuff can really benefit by something to lighten the mood. Not to mention that the big red wig matches my fiery personality!
So, even though I take being a practitioner and working with clients seriously, I also value having some levity around it.
How do you bring levity to your #adultingstuff or life responsibilities?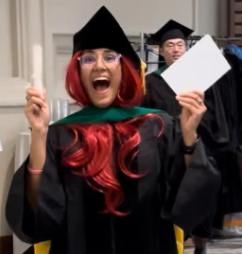 In Health,
Shay
---
Dr Shay Vasudeva, Doctor of Acupuncture, MA (Psychology), MS (Kinesiology), NFPT-CPT, NASM-CPT-CES, THSA-CNT, and Tai Chi & Black Belt Karate Instructor, is also a Member of The Author's Guild and Ambassador to the Phoenix, AZ Chapter. She is the owner and founder of ShayTheCoach and ShayTheCoachWriting, companies that help people become the best version of SELF by simplifying heady topics through the written and spoken word. She is an author, educator and international speaker in the wellness industry.
Shay's passions have always included the written word. Her forte' includes an ability to interpret technical topics into more easily understandable terms for the general reader. Shaweta "Shay" Vasudeva's writing experience includes: qualitative research, academic curriculum writing, and blogging. Her specialty is breaking down academic, technical, and 'heady' subject matters and expressing it to the public and her readers in layman's terms. Shay believes in the value of educating and uses a very down-to earth, sometimes humorous approach, that's very relatable. For more information, visit her writing page here.
This blog is intended for those who are interested in Nutrition, Fitness, Karate, Tai Chi, or simply becoming best version of SELF on a business/professional level. Thank you! We are not doctors/medical professionals and don't diagnose or treat diseases. The contents of the blog are for educational purposes.
Copyright © *2023* *ShayTheCoach.com*, All rights reserved.