I'd like to "come out" of my Buddhist closet.
I've been shy about the whole thing because it was a personal decision and I'm finally ready to speak and share about it a tad more. I was shy about it because I didn't want to come across as someone who's "arrived." Actually, I'm far from it! I've been openly sharing about my human moments in this blog — what I've learned from them, and providing as many take-aways and actionable steps for you to use in your own life circumstances. I also didn't want to be misinterpreted should I have a bad day or what I refer to as an "Un-Buddhist moment." I'm learning all that is BS and the very same thought process I want to avoid!!!! It's all about having human moments and learning from them, right? I also didn't want to alienate any of my followers and I hope it doesn't.
Just like my practice in Buddhism has grown, I'm sure how much I share about it will too. For now, I'll try to keep it simple (famous last words…) I'll say that I started by reading a book on basic meditation. While the book discussed various methods of meditation, the one word that stood out to me was PRACTICE.
This word appeared multiple times on multiple pages and the author kept the message consistent in that it doesn't matter what form of meditation you decide to do, just keep doing it. Just keep up your PRACTICE. I took that message to heart, and that's what I've been doing since I read that book a few years ago. I chose a meditation technique and practiced it for a certain number of days and a certain amount of time daily. Through my PRACTICE, I started to see why so many people meditate on a regular basis.
Sure, it's calming at times and sometimes the thought-gremlins are just so loud! However, I always go back to the main message of the book I read, just PRACTICE anyways.
Maybe the word PRACTICE resonated with me so much because of my sports history? It makes me think of all the practices I've been part of as a former softball and tennis player, as a karate-ka and instructor…PRACTICE, PRACTICE, PRACTICE. I remember practicing so much that strategies become rote memory and during the heat of competition, practice becomes automatic response. It's no different as a student or practitioner. The content of the practice might be different, yet the importance of it isn't. In any case, this blog ended up being less about Buddhism than about the word PRACTICE.
I guess it's my start to openly discussing my journey with Buddhism, meditation and PRACTICE. I also want to say this, just because one has a meditation practice, it doesn't mean one needs to identify as Buddhist. I took some time before I made that decision.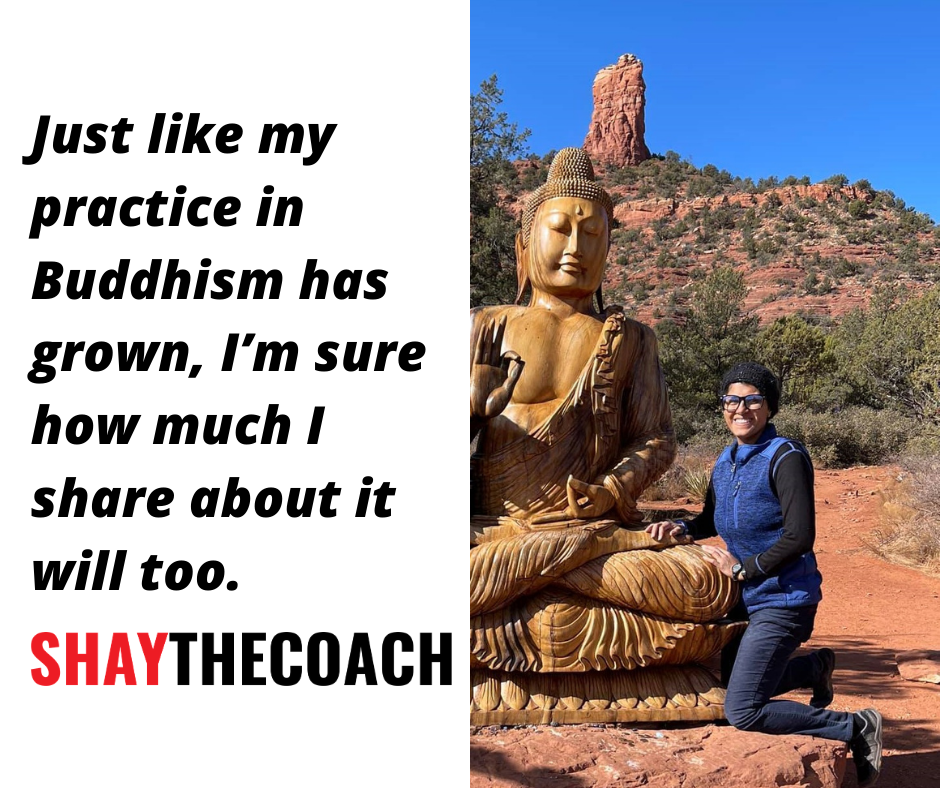 For now, let me ask you this, what's something you've practiced (personally or professionally) to the point that it's become automatic? What's something you'd like to practice more? How will you make space and time for it? What will it look like? I'd love to hear about it.
In Health,
Shay
---
Shay Vasudeva, MA (Psychology), MS (Kinesiology), NFPT-CPT, NASM-CPT-CES, THSA-CNT, and Tai Chi & Black Belt Karate Instructor, is also a Member of The Author's Guild and Ambassador to the Phoenix, AZ Chapter. She is the owner and founder of ShayTheCoach and ShayTheCoachWriting, companies that help people become the best version of SELF by simplifying heady topics through the written and spoken word. She is an author, educator and international speaker in the wellness industry.
Call 480-294-9952 or e-mail shaythecoach@gmail.com to find out more or to book Shay for a writing project or to speak with your organization.
This blog is intended for those who are interested in Nutrition, Fitness, Karate, Tai Chi, or simply becoming best version of SELF on a business/professional level. Thank you! We are not doctors/medical professionals and don't diagnose or treat diseases. The contents of the blog are for educational purposes.
Copyright © *2021* *ShayTheCoach.com*, All rights reserved.