So, I'm wondering if you're wondering – "What do you mean, CELEBRATE?"
How can you CELEBRATE with all that's going on? Layoffs, furloughs, people shifting work and careers, uncertainty, sickness (COVID-19 related or not), the list goes on. Yet, through it all, there are ways to CELEBRATE safely and I've experienced plenty of reasons to CELEBRATE despite it all. First things first, HOW to CELEBRATE safely?
1) Virtual gatherings: I know someone who was planning to go to Ireland to see her daughter and would-be son-in-law get married this year. Unfortunately, the trip didn't happen. THE WEDDING DID. I know someone else who got married in Boston. Rather than cancel the wedding, both couples got married in-person, with minimal attendance while socially distancing and following governmental guidelines and invited friends and family to experience it virtually. Sure, it wasn't "the same as being there in person." However, because the wedding was celebrated virtually, more family members and friends could "attend." Those who were planning in-person did so virtually AND those who were not planning to attend in person ALSO got to attend. In this way, the celebration was more inclusive, expansive, and cost-effective.
The money saved on flights, hotels, and other related travel expenses was spent on gifts or saved by the guests who were experiencing some hardships, yet people still CELEBRATED.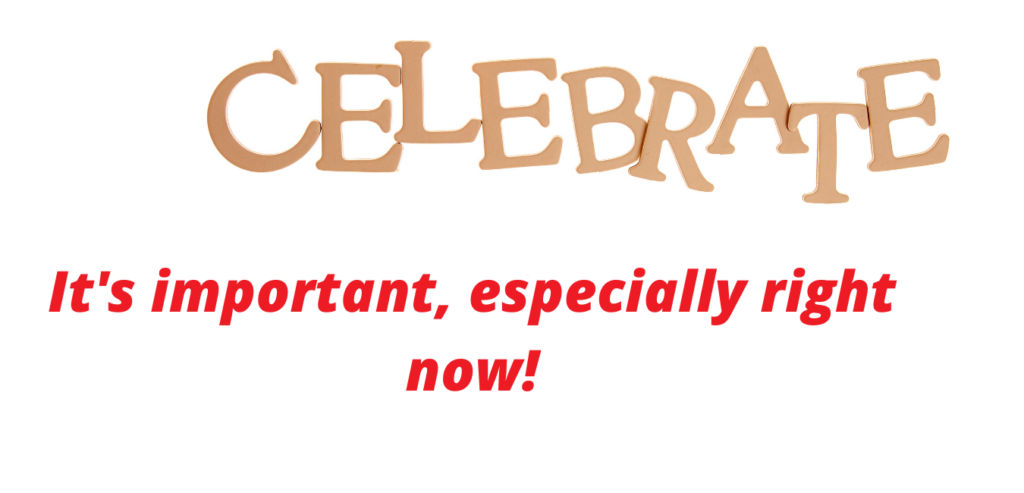 2) Some people are choosing to sit on their patio or watch through their living room window as people are driving by and waving CELEBRATORY SIGNS. This is particularly true for my friends who have children or teens CELEBRATING milestones or just missing their friends.
3) Send an e-card or virtual gift cards. There's so much that can be done through animated websites and e-commerce sites from making a video and sending it to putting your picture on a virtual gift card. It's always a nice surprise to receive! I recently celebrated a birthday and two of my friends animated themselves as Halloween characters, did a dance, and sent me an e-card of it. It was pretty goofy and made me laugh!! I guess it's my turn to send one back!
In any case, while this list isn't exhaustive, it's a great start. Can you add to it? What are some things happening in your life worth CELEBRATING? How can you do so or have you done so safely?
---
Shay Vasudeva, MA (Psychology), MS (Kinesiology), NFPT-CPT, NASM-CPT-CES, THSA-CNT, and Tai Chi & Black Belt Karate Instructor, is also a Member of The Author's Guild and Ambassador to the Phoenix, AZ Chapter. She is the owner and founder of ShayTheCoach and ShayTheCoachWriting, companies that help people become the best version of SELF by simplifying heady topics through the written and spoken word. She is an author, educator and international speaker in the wellness industry.
Call 480-294-9952 or e-mail [email protected] to find out more or to book Shay for a writing project or to speak with your organization.
This blog is intended for those who are interested in Nutrition, Fitness, Karate, Tai Chi, or simply becoming best version of SELF on a business/professional level. Thank you! We are not doctors/medical professionals and don't diagnose or treat diseases. The contents of the blog are for educational purposes.
Copyright © *2020* *ShayTheCoach.com*, All rights reserved.