Finding Stillness in Running Water – Part 1
Ever heard of the saying, "People plan and the Universe Laughs?"
Well, I had plans to spend my birthday camping with my friend and being reunited with Grand Canyon for 3 nights and 4 days. This didn't happen due to some extenuating situations. Instead, we diverted the trip and spent 1 night and 2 days in Sedona and Oak Creek Canyon. At Oak Creek Canyon, we did a hike called West Fork and came across this bridge: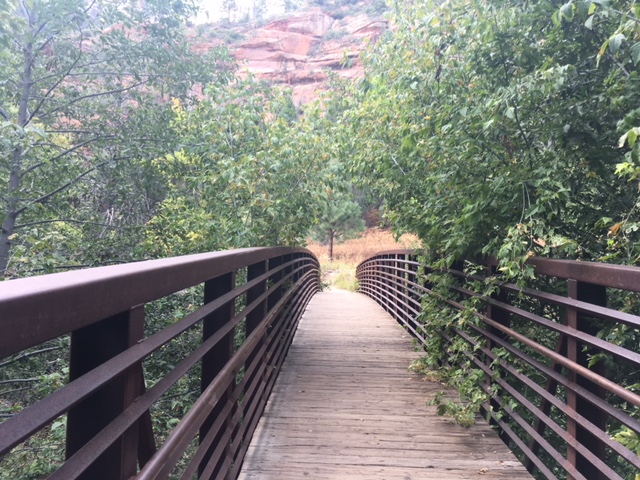 It struck me because in my profession, I teach different classes in different departments. I also use a multidisciplinary approach when I work with my clients which gets people's attention sometimes. I find myself constantly explaining how Nutrition, Fitness, Psychology, T'ai Chi, Karate, Corrective Exercise, and Cranial Sacral Work are related.
All have one thing in common: the human body.
When I utilize any of those modalities or teach anything related to these topics, there's one thing in common: the student, who also has a human body. I spend countless hours wondering and coming up with dialogue on how to "build a bridge" about this. Ironically…because of the change in plans, I cross a bridge that gets my attention big time.
Here it is again: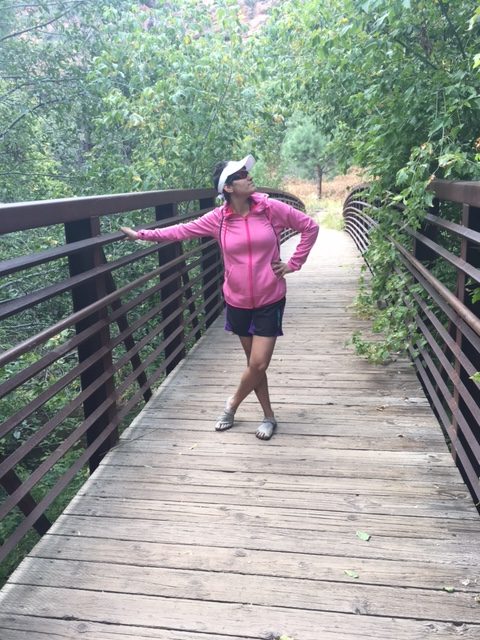 I took this trip to celebrate my birthday and to show my out-of-town friend some of the beautiful sights in Arizona. After the time in Sedona and Oak Creek Canyon, we spent 2 nights and 2 days in Tusayan, one of the closest cities to Grand Canyon Village. I was a bit upset at this sudden change of plans and made a conscious effort to enjoy myself regardless. I can't say I was the most graceful about the situation, but I always tell clients and students alike, "Just because I teach this stuff, doesn't mean I'm immune. I think I teach this stuff because I have my own experiences and get plenty of chances to practice it. Sometimes I'm more successful than others."
(Stay Tuned for Part 2)
---
Shay Vasudeva is the owner and founder of ShayTheCoach, a company that helps people become the best version of SELF. She offers her clients a mind-body approach in all the services she offers, including Cranio Sacral Work, Nutritional Therapy and Corrective Exercise. Call 
480-294-9952
 or e-mail 
[email protected]
 to schedule your free goal setting session now! Or book a session now.  For more information about ShayTheCoach, go to the website.
This blog is intended for those who are interested in Nutrition, Fitness, Karate, Tai Chi, or simply becoming best version of SELF on a business/professional level. Thank you!  We are not doctors/medical professionals and don't diagnose or treat diseases. The contents of the blog are for educational purposes.
 Copyright © *2017* *ShayTheCoach.com*, All rights reserved.