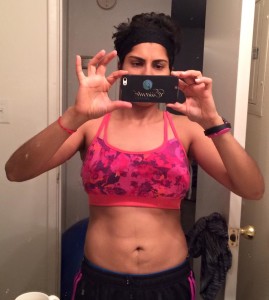 Here's blog post #4…But again, who's counting?
Who's that hiding behind the phone? Believe it or not, I always debate whether I should post pictures of my results…and I always end up doing it! WHY? To inspire, to hold myself accountable, AND also to say these abs are a result of a lifestyle change and a series of healthy decisions "stacked" on top of each other.
I don't call what I eat "diet." WHY?? The first part of that word is "die!!" It's a LIVE IT!! I LIVE IT and I LOVE helping others make that change!!
I didn't always look like that picture above.  Some days, I still can't believe that's my body!  Sometimes, when people have been a certain shape or size for a long time, once the body changes, the mind takes a bit to change with the body.  For example, one of my clients called me from a department store once and told me, "Shay, when I go to buy clothes, I automatically put size Larges in my cart and try them on in the fitting room. Then, I catch myself and realize that's not where I am today.  It's weird to be wearing a small."
I tell them to LOVE it, LIVE it, and OWN it! You EARNED it! I also realize sometimes it takes time to reach goals…sometimes it takes longer for the mind to register.  Have you ever reached a goal? What did it feel like?
What did you do to LIVE it, LOVE it, and OWN it??
Shay Vasudeva is the owner and founder of URBANMONK, a company that helps people become the best version of SELF. She is a Certified Personal Fitness Trainer, Certified Nutritional Therapist, and Black Belt Karate Instructor.  For more information you can go to: www.urbanmonk.biz or follow on facebook at www.facebook.com/urbanmonkaz.
This blog is intended for those who are interested in nutrition, fitness, karate, tai chi, or simply becoming best version of SELF on a business professional level. Thank you!
We are not doctors/medical professionals and don't digonse or treat diseases. The contents of the blog are for education purposes.