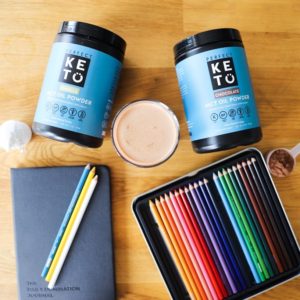 Perfect Keto
I started using PK MCT Oil Powder to save time and because of the heat in Arizona! It's getting hot out there, and it's only May.  MCT Oil Powder is convenient unlike many high fat products in the Arizona summer because I can take it with me on the go and not worry that it will go rancid like the oil or melt like the capsules. The PK MCT Oil Powder tastes really good too!
MCT's have become the new trend in the ketogenic industry for good reason.
Ever since I started the ketogenic diet, I've been mixing MCT's into my coffee in the morning, in my protein shake for lunch and sometimes with my evening tea.
But I had to use it very sparingly. I noticed that anytime I consumed too much MCT oil, it would cause digestive issues. That's when I found out about Perfect Keto's MCT Oil Powder.
It's been a literal game-changer for me because I'm able to use fairly large amounts of MCT Oil Powder to experience the mental clarity I loved so much but without the stomachaches I got with MCT oils.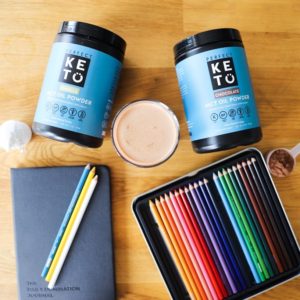 Once you read through this Perfect Keto's MCT Oil Powder review, you'll understand why I think this product trumps everything else on the market.
What are MCTs?
MCT is short for medium chain triglyceride.
Due to the shorter fatty acid chain, MCT's can be converted directly into energy and can be used as fuel for the brain much easier as compared to longer chained fats.
MCT Oil Powder is the powdered form of MCT Oil. It goes through a production process called spray drying.
The powder is usually comprised of starch and milk proteins which means most MCT Oil Powders on the market are not pure MCT oil products.
Initially, I was discouraged to give MCT Powders a try specifically because I didn't want to ingest all of the unnecessary fillers that came with it. But after finding out that Perfect Keto MCT Oil Powder had absolutely zero fillers, I knew I struck gold. I don't care for fillers, so I'm always looking for products without them that also don't compromise taste. This product is THAT product.
I love to use MCT Oil Powder mainly for my daily protein shake and I also like to include it in my post workout shake. It's now part of my daily supplement regimen.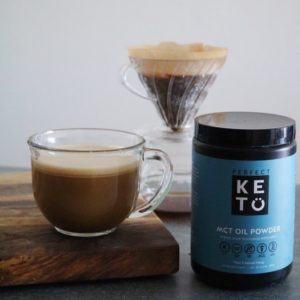 Here's how I use it for a post workout shake:
Step 1: Add one to two servings of Perfect Keto MCT Oil Powder into a shaker cup with protein powder.
Step 2: Bring the shaker cup to the gym and do my workout. (**And not have to worry about it melting or going rancid with the Dry Arizona Heat**)
Step 3: Immediately after exercising, I will add water to my shaker cup.
Step 4: Shake it (usually in the gym locker room)
Step 5: Enjoy my protein shake mixed with Perfect Keto MCT Oil Powder right away.
I love to add MCT Powder to my protein because I feel that it helps me recover faster and gives me more energy to get on with my day after a hard workout.
I use MCT Oil Powder (especially after workouts) because it's more bioavailable meaning my body has to do less work to use it for energy. It's a quick and easy way to refuel and I don't have to worry about putting fillers into my body like some of the other products out there.
Here are a few reasons why I love it so much:
Adds creamy texture. The powdered form produces a creamy texture that adds a nice flavorful layer to protein shake.
To-Go Friendly. I can carry my MCT Oil Powder with me wherever I go without stressing about spillage. Also, it's much easier to measure a scoop of MCT Oil Powder as compared to the liquid form.
No Fillers or Additives. Unlike other MCT Oil Powders on the market, Perfect Keto went above and beyond to make sure there aren't any fiber additives or corn starch included in their product. This means I don't have to worry about any hidden sugars or carbs to kick me out of ketosis.
I still use MCT oil every now and then but, the powdered form has become my preferred supplement for more reasons than one.
Here are some of the reasons why I switched from MCT oil to its powdered counterpart:
It's easier to incorporate MCT Oil Powder into solid foods such as protein pancakes and other baking recipes.
Sometimes people can experience digestive problems like diarrhea when using MCT oil. One of the biggest reasons why I switched to the powdered form is because it's much more tolerable and I find that I can use larger amounts without experiencing any gut distress whatsoever.
I have a sensitive body and gut, so I'm always looking for products and foods that are easy on it. Because PK Keto's MCT Oil Powder has no fillers, I use it!
The reason I chose Perfect Keto MCT Oil Powder over the hundreds of other brands on the market is because they went above and beyond to make sure their product doesn't have ANY fillers or additives.
Their product is 100% pure and each batch is lab tested which is something I know that not all companies do.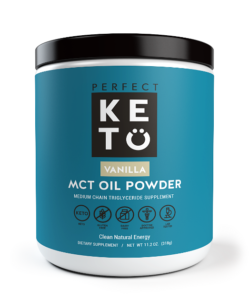 Perfect Keto MCT Oil Powder is my top choice when it comes to MCT's. Using MCT's is a staple for anyone following a low carb, high fat ketogenic lifestyle.
The guaranteed purity as well as the peace of mind that the Perfect Keto MCT Oil Powder has zero fillers or additives makes it my preferred product by far.
---
Shaweta Vasudeva is a Certified Personal Fitness Trainer, Certified Nutritional Therapist, Corrective Exercise Specialist, Black Belt Karate and Tai Chi Instructor for ShayTheCoach, a company she founded as a result of her passion to help others become the best version of "self." She is a hard working individual who has earned a Bachelor of Arts and Master of Arts in Psychology and has had a very successful career as a Substance Abuse Counselor.
While Shay does not provide Drug and Counseling services currently, she still brings her Psychology background when working with clients. ShayTheCoach works on the "WHY" of losing weight and changing nutritional habits as well as the "HOW."
The focus is on clients whose goal is weight loss and also those who have special considerations. Her approach is providing unique tools from her professional and personal experiences. Shay likes to tell people
"I look the way I do because I train and eat healthy. I do not eat healthy and train to look the way I do."
She takes an "inside out" approach to health because that's what works over time and fuels lasting results.
Shay has personal and professional experience with Vegan and Vegetarian Diets, Blood Type Diet, Candida Cleanse, and Elimination Diets. For folks with these special dietary considerations, Shay works closely with providers in the community, coordinating care to help you reach your health goals! She works to educate you on the best choices on the market, teach how to read ingredient labels, and introduce you to local restaurants that are friendly to folks with special dietary needs.
---
DISCLAIMER:
Some of the links on this page are affiliate links, which means that if you choose to make a purchase, Shay will earn a commission and it comes at no additional cost to you. Please understand that Shay has experience with all of these companies, and recommends them because they are helpful and useful. Please do not purchase any of these unless you feel you need them or believe that they will help you achieve your goals. Also, we are not doctors/medical professionals and don't diagnose or treat diseases. Making purchases from these sites does not replace a visit or consultation with your medical provider.