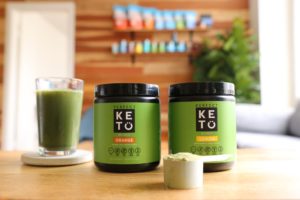 Perfect Keto MicroGreens Powder
Being healthy, energized, and nutritionally optimized means your diet needs to have proper levels of vitamins and minerals.
I've come across so many people that think being on the ketogenic diet will lead to a ton of micronutrient deficiencies because you're restricting carbohydrates from your diet. But this is only true if you are consuming foods with little to no micronutrient density, regardless of what diet you're on.
When I first started the ketogenic diet, I fell into the trap of eating tons of highly processed meats and fats like hot dogs and breakfast sausage, hoping it'll work out! Little did I know that I wasn't receiving the full benefits of ketosis because I wasn't getting all of the vitamins and minerals that you get from fruits and vegetables.
I knew how important it was to incorporate veggies into my ketogenic diet but it was hard for me to consume enough to fulfill my micronutrient needs.
Luckily I found out about Perfect Keto's Greens Powder. After looking at the ingredients, I knew it was exactly what my ketogenic diet was missing.
Now that I use it in my routine, I'm glad I do!  It helps me get my micronutrient needs without all the carbohydrate intake. Ideally, I'd like to eat my veggies. In order to reach my needs though, the amount would be so much…and because I'm on the go, wouldn't fit the lifestyle. I do still eat greens, and wouldn't want to replace natural, healthy, organic foods all the time. Both the Perfect Keto Greens Powder and eating the greens in their plant form have their value. The powder is great too, because it can be added to smoothies, almond milk, fat bombs, etc. So, then the gut doesn't need to work through and process all the greens either.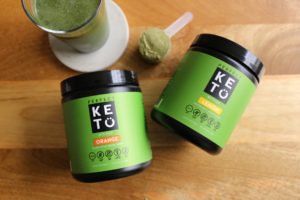 PK's Greens Powder is a nutrient-packed product that's a great source of health through ingredients like broccoli, kale, wheatgrass, and spirulina. Never fear! It also has a berry blend in there to make it taste great.  The Absorption and Antioxidant Blend found in the PK Greens Powder also make it a special product and user-friendly.  My favorite part of PK Greens Powder and why I use it is it has no added fillers and junk! It's a no-nonsense product and only has the essentials in there to support the state of ketosis and tastes amazing!
You can tell Perfect Keto went above and beyond with Perfect Keto Greens Powder by how intricately designed their ingredient blend is.
Perfect Keto Greens Powder is perfect for anyone who can't eat enough vegetables or can't consume enough of a variety that they would like while on the ketogenic diet. Most of the nutrient dense fruits and veggies out there will kick you out of ketosis.
It's packed with all of the essential vitamins and minerals coming from 26 different organic fruits and vegetables and even includes MCT oil powder to help kickstart your body into ketosis. (Don't miss your discount code at the bottom of this review!)
Greens and vegetable blend. 4.5 grams of raw organic greens and vegetables coming from 12 different plants that contain all of the phytonutrients and none of the wasteful product.
Berry and fruit blend. 4.5 grams of raw organic berries coming from 10 different sources.
MCT Powder. 3.5 grams from coconut oil fat to help absorb vitamins, minerals, and plants. MCT is readily accessible by your brain for energy.
Liver support enzymes. These enzymes were included to help you deliver the nutrients without wasting any of the micronutrients of the product.
Digestive enzymes. These were included so your body can break down the plant nutrients more efficiently.
Reishi Mushroom. A powerful compound that helps decrease inflammation, fatigue, skin problems and anxiety.
Inositol. A naturally occurring ingredient in plants that help nerve conduction, fat breakdown and insulin regulation.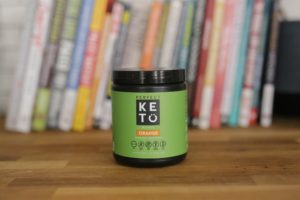 You can use Perfect Keto Greens Powder at anytime of day and it's as easy as putting it in water and stirring it up. Micro Greens was designed as a multivitamin that so you can take it whenever it's convenient for you. It's great for me when I'm on the go, as a pre-workout energy boost, or as an addition to my daily shake. I love it because it ensures I get the good stuff from all of the healthy ingredients in there on a daily basis!
All you have to do is add it to any 8 to 10 ounce beverage or smoothie of choice.
Here are the most common scenarios for when I like to use them:
Before my workout. I like to use a scoop before my workout because it gives me the essential nutrients along with MCTs for a quick boost in energy while I exercise.
Anytime I'm traveling. I always make sure to bring PK Greens Powder whenever I'm on a long road trip or flying. I find myself feeling more nutritionally prepared and sharp on my trips because I can grab a scoop any time I need it! Sometimes the places I go lack ketogenic food options, or I have to go out of my way to find them. Sometimes I just get stuck with delays and transfers, so it's simply great to have it on trips!
Whenever I don't eat enough vegetables. Some days I'm just not able to eat large amounts of greens. Having PK Greens Powder helps me get the additional essential nutrients and gives me peace of mind that I won't be kicked out of ketosis because I ate too many fruits and veggies.
I chose Perfect Keto Micro Greens because I knew I needed to fill in the gaps of my current ketogenic diet since I wasn't consuming enough vegetables. Any time I tried to increase my veggie intake, I ran the risk of being kicked out of keto. I would start to experience lethargy and a bit of brain fog. This was disappointing, because I know the value of micronutrients and making sure I eat enough veggies!  PK Greens Powder is a very viable solution and keeps my total daily carb intake down, so I stay in ketosis and don't get the sluggishness and brain drain afterwards.
Here's why I prefer Micro Greens over everything else on the market:
Fills any gaps while going keto. You have to cut most fruits out of your ketogenic diet and doing so means you won't be getting all of the micronutrients you used to. Micro Greens will fulfill many micronutrient deficiencies while being in keto.
No fillers included. Perfect Keto thrives on creating a supplement that has zero starch or fiber additives. This means there are zero carbs and all the nutrients are fully absorbed.
Increased energy and lowered inflammation. The vegetable blend along with reishi mushrooms has impacted my daily energy. I also found my joints don't complain as much after doing strenuous workouts.
How to Get Perfect Keto Greens Powder Drink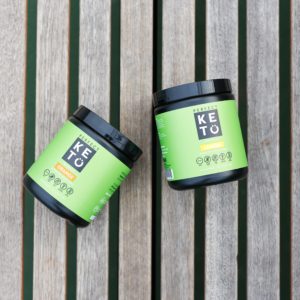 The complete micronutrient vegetable blend along with MCT oil powder and reishi mushrooms makes Perfect Keto Micro Greens my absolute favorite greens product on the market.
It isn't everyday that I try out a greens supplement with no added fillers and preservatives that also tastes great! It's a highly effective and efficient way to boost energy and micronutrient intake!
BONUS — SAVE NOW – USE MY CODE!
I contacted the owner of Perfect Keto and we agreed on a limited time deal on Micro Greens. If you use the coupon code below, you can get it for a discounted price but the coupon code only has a few uses left so I'd suggest you get onboard sooner rather than later.
Save 15% on the Perfect Keto Greens Powder by using coupon code: KETOTIME15
---
Shaweta Vasudeva is a Certified Personal Fitness Trainer, Certified Nutritional Therapist, Corrective Exercise Specialist, Cranial Sacral, Black Belt Karate and Tai Chi Instructor for ShayTheCoach, a company she founded as a result of her passion to help others become the best version of "self." She is a hard working individual who has earned a Bachelor of Arts and Master of Arts in Psychology and has had a very successful career as a Substance Abuse Counselor.
While Shay does not provide Drug and Counseling services currently, she still brings her Psychology background when working with clients. ShayTheCoach works on the "WHY" of losing weight and changing nutritional habits as well as the "HOW."
The focus is on clients whose goal is weight loss and also those who have special considerations. Her approach is providing unique tools from her professional and personal experiences. Shay likes to tell people
"I look the way I do because I train and eat healthy. I do not eat healthy and train to look the way I do."
She takes an "inside out" approach to health because that's what works over time and fuels lasting results.
Shay has personal and professional experience with Keto, Vegan and Vegetarian Diets, Blood Type Diet, Candida Cleanse, and Elimination Diets. For folks with these special dietary considerations, Shay works closely with providers in the community, coordinating care to help you reach your health goals! She works to educate you on the best choices on the market, teach how to read ingredient labels, and introduce you to local restaurants that are friendly to folks with special dietary needs.
---
DISCLAIMER:
Some of the links on this page are affiliate links, which means that if you choose to make a purchase, Shay will earn a commission and it comes at no additional cost to you. Please understand that Shay has experience with all of these companies, and recommends them because they are helpful and useful. Please do not purchase any of these unless you feel you need them or believe that they will help you achieve your goals. Also, we are not doctors/medical professionals and don't diagnose or treat diseases. Making purchases from these sites does not replace a visit or consultation with your medical provider.